Interesting times, and a new job!

It's (yet again!) been a while since I blogged last, sorry...
It's been over ten years since I started in Arm, and nine since I joined Linaro as an assignee. It was wonderful working with some excellent people in both companies, but around the end of last year I started to think that it might be time to look for something new and different. As is the usual way in Cambridge, I ended up mentioning this to friends and things happened!
After discussions with a few companies, I decided to accept an interesting-looking offer from a Norwegian company called Pexip. My good friend Vince had been raving for a while about how much he enjoyed his job there, which was a very good sign! He works from his home near Cambridge, and they were very happy to take me on in a similar way. There will be occasional trips to the UK office near Reading, or to the Norway HQ in Oslo. But most of the time I'll be working in my home office with all the home comforts and occasionally even an office dog!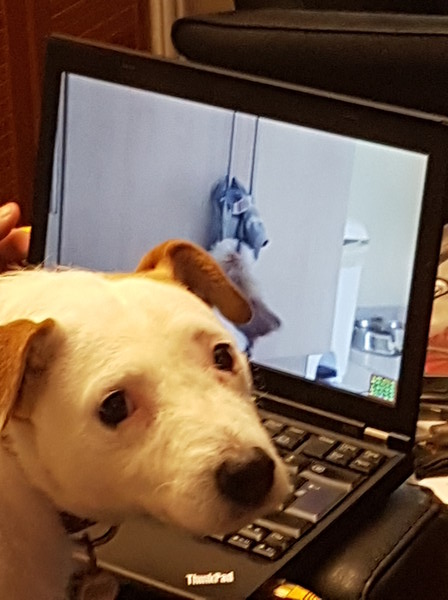 As is common in the UK for senior staff, I had to give 3 months notice with my resignation. When I told my boss in Arm way way back in February that I had decided to leave, I planned for a couple of weeks of down-time in between jobs. Perfect timing! The third week of May in Cambridge is the summer Beer Festival, and my birthday is the week after. All was looking good!
Then the world broke... :-(
As the "novel coronavirus" swept the world, countries closed down and normal life all-but disappeared for many. I acknowledge I'm very lucky here - I'm employed as a software engineer. I can effectively work from home, and indeed I was already in the habit of doing that anyway. Many people are not so fortunate. :-/ In this period, I've heard of some people in the middle of job moves where their new company have struggled and the new job has gone away. Thankfully, Pexip have continued to grow during this time and were still very keen to have me. I finally started this week!
So, what does Pexip do? The company develops and supplies a video conferencing platform, mainly targeting large enterprise customers. We have some really awesome technology, garnering great reviews from customers all over the world. See the website for more information!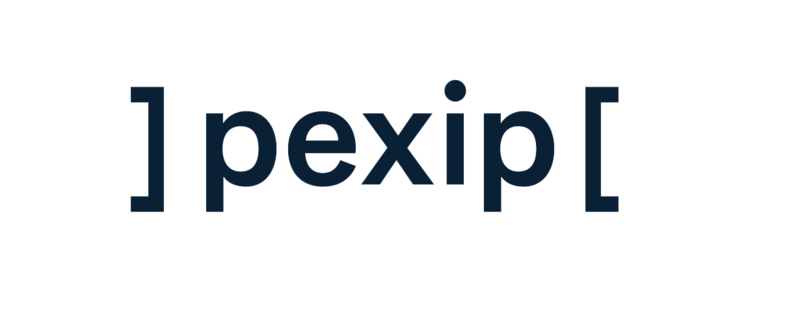 Where do I fit in? Pexip is a relatively small company with a very flat setup in engineering, so that's a difficult question to answer! I'll be starting working in the team developing and maintaining PexOS, the small Linux-based platform on which other things depend. (No prizes for guessing which distro it's based on!) But there's lots of scope to get involved in all kinds of other areas as needs and interests arise. I can't wait to get stuck in!
Although I'm no longer going to be working on Debian arm port issues on work time, I'm still planning to help where I can. Let's see how that works...
18:22 :: # :: /misc :: 1 comment
Here's a nice comment I received by email this morning. I guess somebody was upset by my last post?

From: Tec Services <tecservices911@gmail.com>
Date: Wed, 21 Jun 2017 22:30:26 -0700
To: steve@einval.com
Subject: its time for you to retire from debian...unbelievable..your
         the quality guy and fucked up the installer!

i cant ever remember in the hostory of computing someone releasing an installer
that does not work!!

wtf!!!

you need to be retired...due to being retarded..

and that this was dedicated to ian...what a
disaster..you should be ashames..he is probably roling in his grave from shame
right now....

It's nice to be appreciated.
22:59 :: # :: /misc :: 8 comments
When you're giving a presentation, the choice of font can matter a lot. Not just in terms of how pretty your slides look, but also in terms of whether the data you're presenting is actually properly legible. Unfortunately, far too many fonts are appallingly bad if you're trying to tell certain characters apart. Imagine if you're at the back of a room, trying to read information on a slide that's (typically) too small and (if you're unlucky) the presenter's speech is also unclear to you (noisy room, bad audio, different language). A good clear font is really important here.
To illustrate the problem, I've picked a few fonts available in Google Slides. I've written the characters "1lIoO0" (that's one, lower case L, upper case I, lower case o, upper case O, zero) in each of those fonts. Some of the sans-serif fonts in particular are comically bad for trying to distinguish between these characters.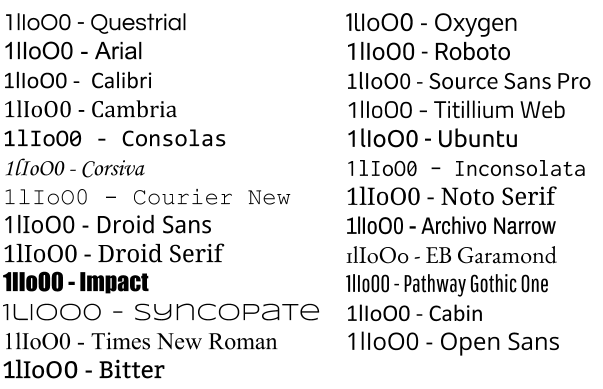 It may not matter in all cases if your audience can read all the characters on your slides and tell them apart, put if you're trying to present scientific or numeric results it's critical. Please consider that before looking for a pretty font.
23:08 :: # :: /misc :: 2 comments
This probably won't mean much to people outside the UK, I'm guessing. Sorry! :-)
The Crystal Maze was an awesome fun game show on TV in the UK in the 1990s. Teams would travel through differently-themed zones, taking on challenges to earn crystals for later rewards in the Crystal Dome. I really enjoyed it, as did just about everybody my age that I know of...
A group have started up a new Crystal Maze attraction in London and Manchester, giving some of us a chance of indulging our nostalgia directly in a replica of the show's setup! Neil NcGovern booked a load of tickets and arranged for a large group of people to go along this weekend.
It was amazing! (Sorry!) I ended up captaining one of the 4 teams, and our team ("Failure is always an option!") scored highest in the final game - catching bits of gold foil flying around in the Dome. It was really, really fun and I'd heartily recommend it to other folks who like action games and puzzle solving.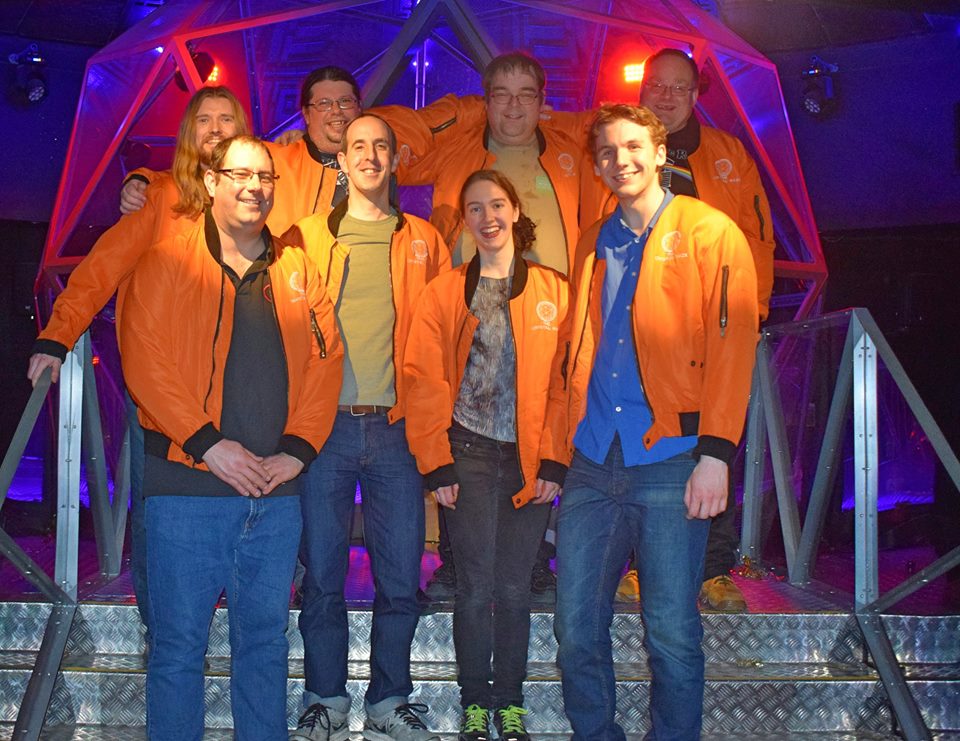 I just missed the biting scorn of the original show presenter, Richard O'Brien, but our "Maze Master" Boudica was great fun and got us all pumped up and working together.
00:32 :: # :: /misc :: 2 comments
A couple of weekends back, we had an awesome time at Jonathan and Charlene's wedding. I'd have blogged sooner, but I had to wait for this photo of the happy couple with the Debian gang... :-)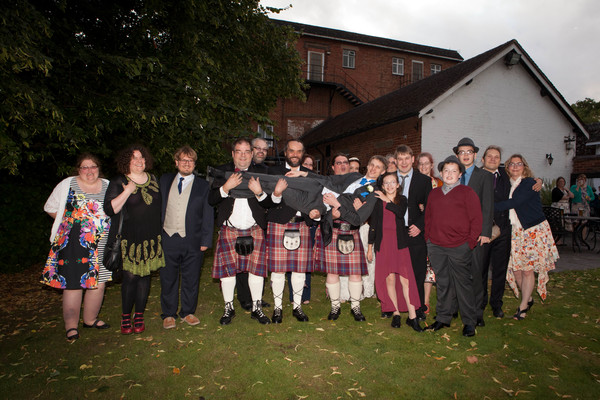 Unfortunately, somebody let Charlene hide at the back! Follow the link for more photos...
14:54 :: # :: /misc :: 2 comments
Weird things I've noticed in hotels lately...

I've been crap about blogging lately. Let's see if I can fix that.
Back in February and March, Jo and I went on vacation for 2 weeks touring California and Nevada. We had an awesome time and we got to see and do lots of fun stuff. I'm not going to go into all the details, as it's a long time ago now...! I've got a massive set of photos online, though.
However, two things struck me as odd when we were there. I'm travelling quite regularly to the US these days due to my work in Linaro, but these still seemed new when I saw them this February/March. These are, admittedly trivial things, but they really stood out for me. Maybe I'm a little weird? :-)
Curved shower curtain tracks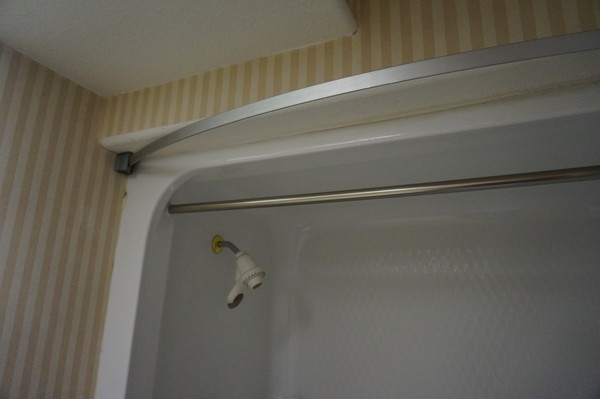 I guess I'm not the only one who's been annoyed by shower curtains sticking to me in the shower, but I'd not really paid much thought to it until now. Suddenly, as of maybe 18 months ago I'm seeing most hotel bathrooms replacing the straight curtain track with a curved one, to stop that happening. This photo shows that process with both tracks visible...
Waterproof/washable TV remotes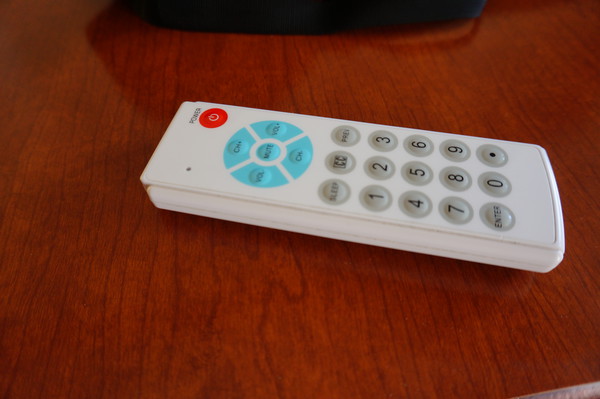 This one really surprised me. As Jo will attest, I have a little bit of an obsession with TVs and set-top boxes in hotel rooms. This dates from my time working for Amino where we made set-top boxes, and I got into the habit of checking what products were in the hotels I stayed in. I've seen a range of weird and wonderful setups over the years, but never this one before. In two of the hotels on our trip, they had replaced the normal TV remotes with washable/wipe-down ones. Weird...
01:02 :: # :: /misc :: 4 comments
Ladies. And Fire Engines. And all for Charity!

My lovely wife Jo has signed up for a charity event in May this year. To help support the UK Fire Fighters Charity, she has committed to a sponsored driving challenge. If she can raise enough funds in sponsorship, she'll get to drive a fire engine, a tractor and (it's rumoured) maybe even a combine harvester too! I've chipped in some money towards the total already; I'm sure Jo would love it if some other nice people pledged on her JustGiving page too.
Go on, it's for a good cause! :-)
00:11 :: # :: /misc :: 0 comments
Ever since I passed the age of 18, I've used my legal right in the UK to vote in every poll I could: local council, British Parliament, European Parliament and even the messed-up referendum on the Alternative Vote that we had last year. In each of those cases, I made a point of considering my available options and I voted accordingly. I went along and marked my ballot paper in person where possible, or I filled in a postal vote for the last Westminster election in 2010 as I was on vacation in Florida when it was held.
Unfortunately, it seems that my diligence in voting makes me unusual amongst the UK population these days. The long-term trend for voter turnout is downwards (as you can see).
However, the latest election that's happening in the UK (well, England and Wales outside London) this week is for the newly-created posts of Police and Crime Commissioners. It's a textbook example of how not to organise an election, as pointed out eloquently by the Electoral Reform Society. This election has been incredibly badly managed and publicised by the Government, and lots of early polls are suggesting a tiny turnout of less than 20%. Despite the political crap about "democracy" being spouted by some Tory ministers, it's clear that very few people want this change in how the police are run, and it has simply been imposed from the top. Too few people care about the results of these elections for them to be valid - most people don't want the police politicised.
After a lot of thought about the issue, I've decided how I'm going to vote this time. For the first time ever, I'm explicitly going to turn up and spoil my ballot paper as a protest - I do not want this crap. I urge other people in England and Wales to consider doing the same.
23:50 :: # :: /misc/politics :: 4 comments
We've been thinking about getting a dog for ages, but it's been difficult to work out the logistics when we've been travelling so much. Well, today's the day!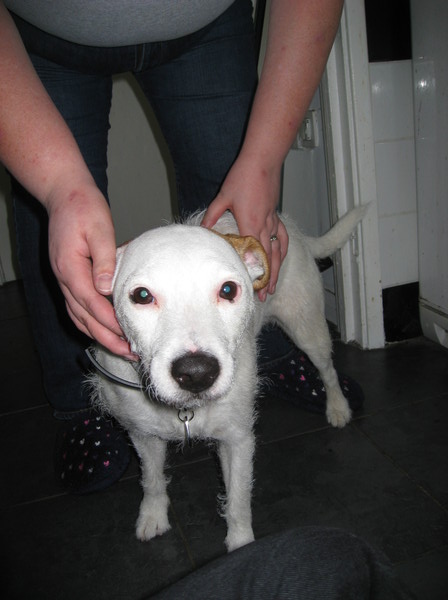 Pepper is a Parson Russell Terrier, and she's 3 years old. We just collected her from the lovely people at Wood Green Animals Shelter. Her previous owner passed away recently, so she was looking for a new home.
We've just brought her home and things are going great - she's very well behaved (so far!) and is loving a new place with lots of fuss and cuddles.
17:14 :: # :: /misc :: 4 comments
Visiting my grandfather in Hong Kong

I never met my father's father, as he died many years before I was born. He was a soldier in the British Army and was killed in an accident in Burma in the 1950s. I'm told that back then the Army did not repatriate casualties as a matter of course like they do today, so none of the family got to see his funeral or even visit the grave. Like many of the military casualties in the Far East, he was buried in the Colonial Cemetery in Hong Kong. A few photographs were sent to my grandmother of the ceremony and the headstone, but that's all we ever saw.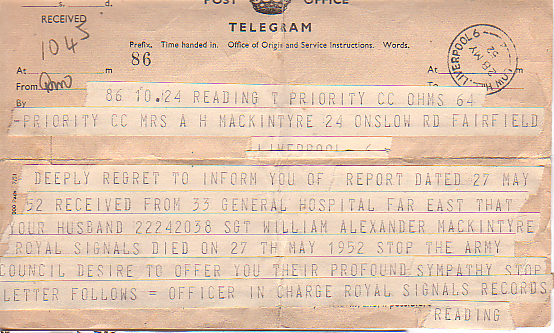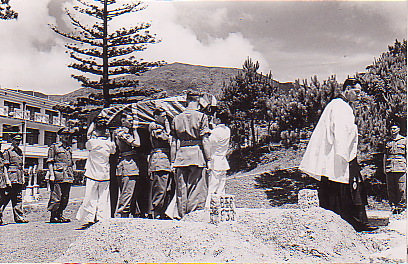 Fast forward to 2012. I travelled to Hong Kong for a conference (Linaro Connect, more about that later...). I looked up the details of where grandad was laid to rest, and found a major coincidence. He was killed on 27th May 1952, almost exactly 60 years ago! I resolved to go to find him on 27th May 2012 to make the most of this lucky anniversary. Wikipedia told me that in the intervening years the Colonial Cemetery had been renamed to Happy Valley Cemetery, then simply Hong Kong Cemetery, and repurposed from military to civilian use.
Jo and I bought some flowers and headed over to Happy Valley on Hong Kong Island on Sunday afternoon. We found a very large cemetery with a helpful map posted to show the different sections, but nothing to tell us where we should be looking. One of the attendants at the office on site looked at the details we had and shrugged to say "sorry, can't help". Ah well, nobody said this was going to be very easy... What we found after a few minutes was that the graves weren't laid out in any obviously logical fashion. In any given small area, you'd find people buried from roughly the same period, but people for any given period could (and would) be scattered across multiple sections at all corners of the site. Great, time for an exhaustive search then. I started combing the site, checking all the markers I could find that looked anything like the tiny grainy black and white photo we had of grandad's headstone.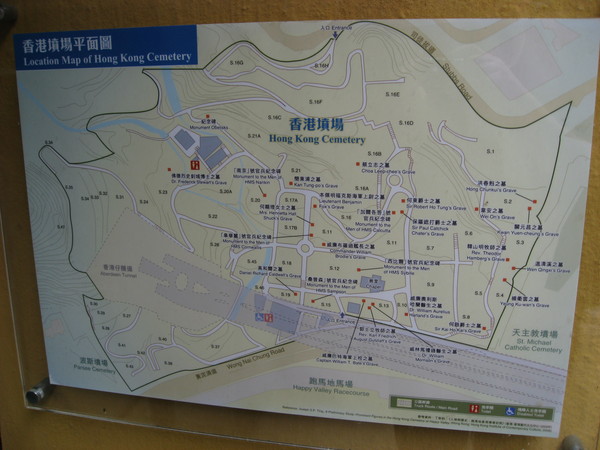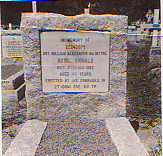 Almost two hours later, I eventually found him. Two hours of heavy work: the cemetery is built on the side of quite a steep hill, and the prevailing weather was very hot with 100% humidity. But, I forgot all that as we eventually stumbled across the correct grave in (no exaggeration!) the very last part of the last section of the site, 20a.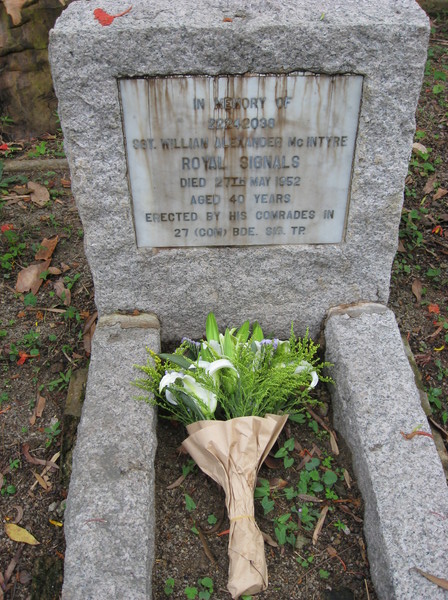 I was relieved at this point: as things had taken so long, I had started to worry that maybe the grave had been moved or the headstone damaged and lost. But no, I found the man who had gone off to war leaving my dad and aunt as small children. We took some photos and took note of where we had found the final resting place of Sergeant William Alexander McIntyre of the Royal Signals, a man I never met in life but clearly a very important member of our family.
19:07 :: # :: /misc :: 4 comments
I agree with Julien - it's a crying shame to see the Space Shuttle finished. There's a lot of people bemoaning lack of progress elsewhere too, for example at http://abstrusegoose.com/377.
23:00 :: # :: /misc :: 0 comments
Jo bought me a voucher last Christmas to spend some time on a race track, driving an Aston Martin and a Lamborghini. Finally we got around to using it last week. Jo is just as much a petrol-head as me, so I surprised her by buying the same experience voucher for her - call it a wedding present. Good call - she didn't stop grinning all day, even on the long drive home!
The Aston Martin was a DB9 Volante (i.e. the convertible). Lovely car, but a little softer than I'd expected (maybe due to it being the convertible). I preferred the Lamborghini Gallardo, pictured here in a nice subtle colour. *grin*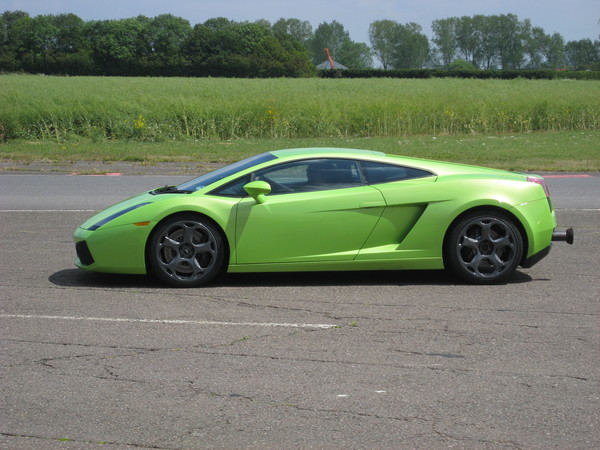 The nice folks doing the official photos at the track also took some extra photos of us sitting in another supercar - an Audi R8 V10 convertible. We've got those photos coming on CD in the post, and I'll post one when they land.
23:59 :: # :: /misc/cars :: 1 comment
Apologies for yet more politics; normal-ish service will be resumed shortly, I hope.
I've just put the following into the "BBC News website feedback" form, but I doubt it will have any impact. Quoting it here for the record...
The BBC news website appears to be showing a systemic bias over the AV referendum. For the last few weeks, there has been regular coverage of the referendum and it seems that there has been the usual blind adherence to "balance" - every story about AV has included some of the (incorrect, unscientific, even hate-filled) propaganda from the "no to AV" campaign without critique or analysis. It's difficult to see any justification for this except deliberate editorial bias, but I don't imagine that there's much that can be done about that.
However, right now on the BBC News front page at http://www.bbc.co.uk/news/ I can see that there is a link "Referendum views" that points to yet another opinion piece from a "No" campaigner (Frederick Forsyth). I only see a single view here, not the plural "views" suggested. I don't see any positive view for AV promoted from the front page at all, nor any link from this puff piece to the other articles that have been written in the recent past. Looking further, I can see that there *has*, in fact, been a positive piece on the News Front Page today (from Billy Bragg) but there are no visible links to it any more. Both articles were posted/updated at the same time this morning (22nd April, 08:34 BST) yet now only the negative one remains. Very shoddy, and not at all what I would expect from the BBC.
23:24 :: # :: /misc/politics :: 11 comments
Lies, damn lies and voting system lies

So we're just over 2 weeks away from our next set of local elections in the UK (May 5th), and alongside those elections we're also being asked about switching to a new voting system for future elections. For a long time we've used the simple First Past The Post (FPTP) system here, but now we have the possbility of moving to Alternative Vote (AV) instead.
First Past The Post
FPTP is simple to understand - the person who receives more votes than any single other person wins. But that simplicity is the only good thing, and there are many problems with it. It's unfair: in an election with 10 candidate, it's possible for a winner to have just 11% of the vote, even in the case where the other 89% of voters would consider them to be the worst option. It's also very susceptible to tactical voting, leading to nasty tactics in parties' election literature like claiming "party foo cannot win here, so don't waste your vote on them - vote for us instead!". See this Wikipedia article for more background.
Alternative Vote
AV is slightly more complicated. Instead of just placing a mark against their single preferred candidate, voters are able to rank as many of the candidates as they like. In the case that there is not a clear winner with more than 50% of the votes from the initial count, the lowest-ranked candidate is eliminated and second-choice votes from their supporters are counted and re-distributed for the other candidates. Iterate this process until one candidate gets more than 50% of the total votes. By re-calculating the votes this way, supporters of less popular candidates / parties should no longer feel the pressure to vote tactically and a more accurate picture of voter intention should emerge. The downsides? AV will tend to lead to slower, more expensive counting due to the potential for several rounds. It's still not real proportional voting, but it's better than FPTP in this regard. Again, Wikipedia has a good article about this subject.
Other options?
I'd be much happier to see discussion / trials of other voting systems. For example, Debian uses a variation on Condorcet called Cloneproof Schwartz Sequential Dropping which is an excellent system for fair voting, but it's very difficult to explain and counting votes is comparatively very expensive. It's bad enough getting ostensibly-intelligent Debian developers to understand this system; extending this to a national election would be impossible in my opinion. It's also not an option on the ballot here... :-)
Politicians spreading lies
I know this won't come as a major shock for a nationwide referendum, but there's a lot of campaigning going on. And, in the best traditions of political campaigning, there's a huge amount of bullshit being spread. The worst is coming from the "No to AV" campaign, as far as I can see. Without many positive things to claim, various members of the Conservative party (current government, with most to fear from a change of voting system, of course) are spouting outright lies and sowing FUD in all directions:
Don't swallow the bullshit
If you're eligible to vote in the UK, please ignore the bollocks. Make up your own mind how to vote in this referendum, by looking at the facts. I've done that and I'll be voting in favour of switching to AV.
13:03 :: # :: /misc/politics :: 7 comments
I mentioned last night that Dad was on his way out, and that we were all hoping it would end soon for him. Well, thankfully it did. He was clearly waiting for my stepmum to come back in to see him this morning; he left us at 11:35 today, at peace and in no pain.
Thanks to everybody for your messages of support, they're very appreciated. It's hard to lose somebody close, and it helps to know that your friends are thinking of you.
13:41 :: # :: /misc :: 2 comments
A few years ago, I mentioned my dad's fight with cancer. He survived that, and has carried on for several more years since. He had a replacement hip fitted last year to improve his mobility, and was looking set to enjoy a good long retirement. Until... Just before Christmas symptoms suggested that the cancer had returned, and with a vengeance. Tests confirmed it.
We were hoping that Dad would fight on and win through again this time, and I was looking forwards to him being at my wedding this September. But there have been a lot of unexpected complications this time and it's just not going to happen. I spoke to him last on Tuesday this week, but he was delirious at the time. He hasn't really been conscious in any meaningful way since.
I'm composing this message in the hospital in Southport where I'm now waiting for my dad to die. We've been told by his doctors that it's not going to be long now, but they said that on Wednesday too. My dad has always been stubborn, always a fighter; we know that this is a fight he can't win, but that isn't stopping him from trying his hardest. At least he's being kept comfortable for his last few days, with plenty of strong painkillers on hand when needed. Please let it end soon.
19:19 :: # :: /misc :: 10 comments
Just had an email from twitter.com telling me that my new account was ready for use. Looks like some spammers are trying to abuse people that way too. Simon said he'd got one too.
Sigh.
21:21 :: # :: /misc :: 3 comments
My good friend Frans Pop died on the 20th of August, just over a week ago. We had worked together for several years within Debian (especially within the Debian CD team), and we had become firm friends during that time. He was great to work with, always ready to help design new features or pick holes and find the bugs in the stuff I was developing myself, happy for others to dig into his own projects. On the more personal side, we met up many times at different Free Software events like DebConf and FOSDEM, and also for pure social things like BBQs and parties. We shared a lot of good times.
Last week, along with some other Debian people who had worked with Frans, I headed over to the Netherlands for his funeral. His family also asked me to talk about him, and I was honoured to do so. I spoke briefly about Frans' work in Debian, highlighting the areas where he worked and the number of people he had worked with in various teams. I also told the group about the massive number of messages of sympathy and condolence which I had been asked to pass on from all over the world. His family knew that Debian was important to Frans, but were not aware of just how wide his influence and effect had been. They were especially surprised and grateful that people had travelled so far for the funeral; I told them that I would not have missed it for anything.
Rest In Peace, my friend. You will be missed.
15:00 :: # :: /misc :: 2 comments
Mum's been to the hospital today for some test results and apparently they've found some cancer. This is a bit of a shock for all of us, as you might imagine. The doctors now need to do some more tests to help find out what they can do. We're waiting with fingers crossed now...
17:15 :: # :: /misc :: 4 comments
Number 2: Although most of the details were finalised a while ago, I haven't blogged about this yet. I've been working at Amino for over four years, developing software for a range of Linux-based set-top boxes. It's been a good place to work for most of that time, but recently I've decided that it's time to find new employment.
At the end of March, I'll be joining ARM as a Staff Software Engineer, working on Linux and other Open Source / Free Software with them. The job looks awesome, just about exactly what I've been looking for. And I'll be joining two more Debian folk who are working there already. Woo! :-)
11:04 :: # :: /misc :: 3 comments