Things mostly went very well, and we've released Debian 9 this weekend past. Many many people worked together to make this possible, and I'd like to extend my own thanks to all of them.
As a project, we decided to dedicate Stretch to our late founder Ian Murdock. He did much of the early work to get Debian going, and inspired many more to help him. I had the good fortune to meet up with Ian years ago at a meetup attached to a Usenix conference, and I remember clearly he was a genuinely nice guy with good ideas. We'll miss him.
For my part in the release process, again I was responsible for producing our official installation and live images. Release day itself went OK, but as is typical the process ran late into Saturday night / early Sunday morning. We made and tested lots of different images, although numbers were down from previous releases as we've stopped making the full CD sets now.
Sunday was the day for the release party in Cambridge. As is traditional, a group of us met up at a local hostelry for some revelry! We hid inside the pub to escape from the ridiculouly hot weather we're having at the moment.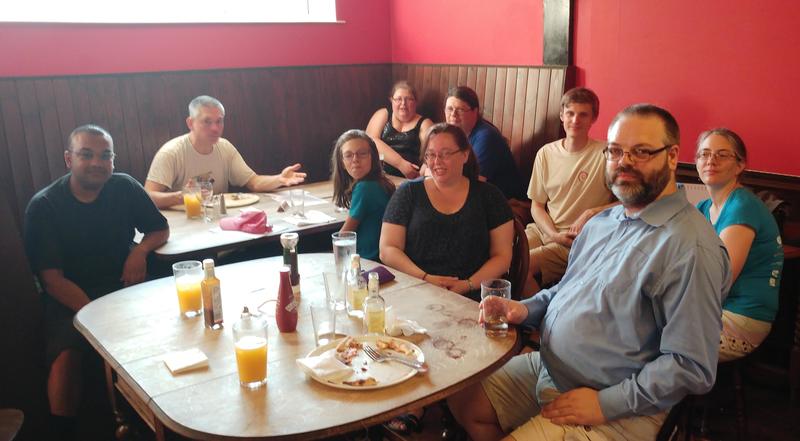 Due to a combination of the lack of sleep and the heat, I nearly forgot to even take any photos - apologies to the extra folks who'd been around earlier whom I missed with the camera... :-(
23:21 :: # :: /debian/releases :: 2 comments
It took us a couple of weeks to organise, but we had a small Lenny release party in Cambridge last weekend. We had the usual crowd of Cambridge folks, plus Noodles and codehelp. Jason Clifford from UKFSN even threw some cash our way to help cover the costs - Thanks Jason! :-) We started at the Regal pub in town, then headed back to my place and drank until late.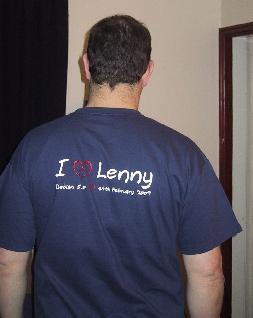 Quite a number of the revellers also bought some of our shiny new Lenny release T-shirts! If you'd like one, look at the details here and mail me!
Update: Fixed the URL to the T-shirt photo. Doh!
10:41 :: # :: /debian/releases :: 0 comments
Thanks to everyone involved. Just finished my pieces of the release process, generating 502 CD/DVD/BD images. And technically it's still February 14th, somewhere... :-)
I should go and get some (more!) sleep, but I want to see us completely finished before I do.
Update: (15th Feb) People have been asking about the BD images. We decided a while back that we wouldn't ship full-size BD ISO images, simply due to the sizes of those images. For the same reason, we didn't generate them for all architectures, just concentrating on i386, amd64 and source. If you're looking for the BD images, you can download/make them via jigdo.
Update #2: (16th Feb) Yes, it's possible that we could make a multi-arch BD image containing all of i386, amd64 and source, similar to the multi-arch DVD. Last time I built that, it would just about fit on a dual-layer disc. That would be a really expensive disc to burn, but let me know by email and I can make the image for you if you really want it.
22:25 :: # :: /debian/releases :: 3 comments
It looks like some of us might be a little busy this weekend. If all goes well, then it looks like next weekend may be busy too. Yay!
UPDATE: The party happened yesterday, and we had more than 20 people for the BBQ. Yay! :-) I was too busy cooking and drinking to be bothered with photos, but I expect others will oblige at some point - check the wiki page above for updates.
14:37 :: # :: /debian/releases :: 0 comments
13:55 -!- aba changed the topic of #debian-release to: Done.
Thanks to everyone - the DDs, the release team, the ftpmaster, the CD testers, Joey, Frans and everybody else. Time to P-A-R-T-Y!
14:05 :: # :: /debian/releases :: 0 comments
Filip complained that the unofficial sarge amd64 jigdo files didn't work for him. That's fine. But if you want other people to notice the bug and fix please report it properly!
In this case, I spotted his blog post and investigated. I think I've fixed the problem now Filip...
10:37 :: # :: /debian/releases :: 0 comments
I have an inkling that there might possibly be an announcement of some sort tomorrow.
I've started on the beer already... :-)
23:40 :: # :: /debian/releases :: 0 comments
We're in the middle of CD building now. After a couple of false starts and last-minute surprises, things are hopefully now running smoothly and we'll get the first images for smoke testing in about an hour. I might even get some sleep tonight, but I'm not banking on it...
02:41 :: # :: /debian/releases :: 0 comments
Woody release 5 CDs and DVDs released

It's taken a few days, but the latest set of woody CDs, DVDs and update CDs are now released and available for download as ISO images, jigdo files and Bittorrent. Building CDs and DVDs for woody is painful these days, and I'll be glad when we don't have to bother. The issues I've had to work around:
Several of the architectures in woody will not build jigdos directly using JTE, so we have to use jigdo directly. That's much slower.
Sparc Woody CDs use an old deprecated patch for mkisofs to make them bootable, so you have to use a woody mkisofs binary to build them.
Several of the architectures use utilities that are not 64-bit clean to make ISO images bootable, so they will fail on DVD images that are larger than 4GB.
Due to using a mixture of JTE where possible and jigdo otherwise, there's quite a lot of hand-tweaking needed to get a consistent set of jigdo files.
Of course, there will probably be similar issues in making sarge rX CDs and DVDs as we get towards the etch release. Fingers crossed for a shorter etch release cycle... :-)
14:19 :: # :: /debian/releases :: 0 comments
Woody release 4 CDs on the way

It's nice to see the latest woody release out, but it does mean that somebody needs to get the CDs and DVDs made to go with it. Guess who that somebody is? :-( I've had to fix some hardware issues on my home mirror system with the fast disks, but that's finished and I'm running the main CD build now. The update CDs and the DVDs will follow.
15:27 :: # :: /debian/releases :: 0 comments