BSP Marathon - Helsinki, 11 - 12 Nov 2006

Travelling again, this time to Helsinki. Droidy generously hosted us for the weekend in her apartment, and over the 2 days something like a dozen people showed up.
It was nice to fly into Helsinki airport on Friday night to find that they were having some proper winter weather already, with snow on the ground. Much better than the miserable cold rain and drizzle we're having in Cambridge so far this year... *grin*. I also got to see why so many good rally drivers come from Finland - the taxi driver calmly drove me from the airport into the city on frozen roads, catching skids one-handed while he had a conversation on his mobile phone in the other.
We worked through a series of bugs throughout the 2 days, and very late on Saturday night Droidy and Jukka helped me with some testing of the Etch d-i RC1 CD and DVD images so we could release them.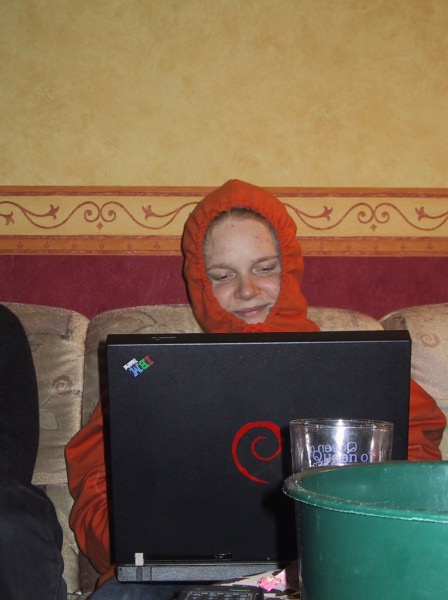 As most of the people at the BSP were interested users rather than DDs, I was aiming to help other people get up to speed on reproducing and fixing bugs rather than just diving in myself - in the longer run, it's more useful. Nonetheless, I got a fair number of bugs polished off (#396361, #395858, #395857, #382843, #397620, #397693) along with my usual bit of debian-cd work.
Of course, while I was in Finland there was no way I'd miss out on the sauna! On Saturday night we put the world to rights in the sauna and then over some beer. It was cool to meet up again with Lars and Jesus that night, and we discussed the details of Lars' tattoo. Lars also still has some cool ideas for Debian, which I'm sure he'll be publicising himself over the next few months. *grin*
22:56 :: # :: /debian/bsp :: 1 comment
BSP Marathon - Cambridge, 28 - 29 Oct 2006

After travelling around Europe visiting other people and helping on the Etch RC bug total, it was my turn to play host in Cambridge. Quite a few people turned up from around the country, and we got quite a lot of work done. Vince brought along one of his fast arm machines to help on the arm mono and java bugs. I found 3 packages that definitely looked ripe for removal (dart, felt and linpac) 1 that needed a small amount of NMU love (gnupod-tools) and another that needed a lot of TLC (gpart). All in all, another fun, productive weekend. i don't have any photos, but others may...
21:48 :: # :: /debian/bsp :: 0 comments
LinuxWorld Expo in London, 25-26 October 2006

We had a good, successful show again this year. The show itself seems to be continuing the trend of fewer visitors each year, but we're still seeing a good number of visitors at the Debian stand. Not many wanted to buy DVDs this year, another continuing trend. As Noodles found ("Use Debian! It's great!"), a large number of those visitors were already Debian users. The common questions were predictable:
When's Etch due?
What do you think of Ubuntu?
Phil, Neil and I also took the opportunity to wander round the hall to try and pick up some more sponsors for Debconf next year, and this was very useful.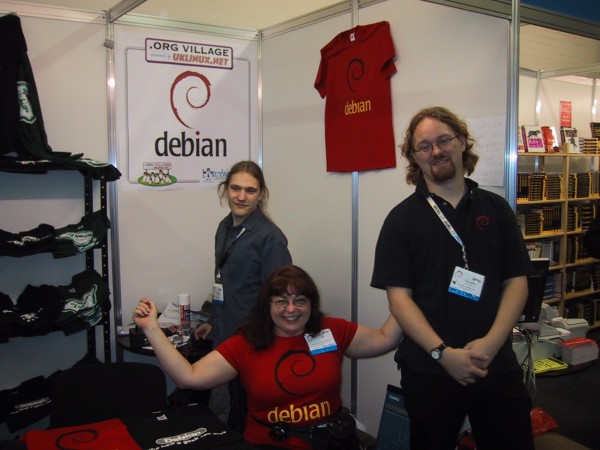 Thanks to all the people that helped, either by turning up on the stand or by organising the .org area. After all these years, it's still fun to turn up and help people find out more about Debian. :-)
21:31 :: # :: /debian/uk :: 0 comments
Time to catch up on some stuff. I've not blogged yet about a couple of BSPs, nor about the Linux Expo, nor... Well, you know the way it goes. I was off work ill today and spent most of the day in bed trying to shake off a nasty cold. I'm feeling much better now, so hopefully I'll be back to work in the morning.
21:07 :: # :: /misc :: 0 comments