Debian BSP in Cambridge, 08 - 10 March 2019

Lots of snacks, lots of discusssion, lots of bugs fixed! YA BSP at my place.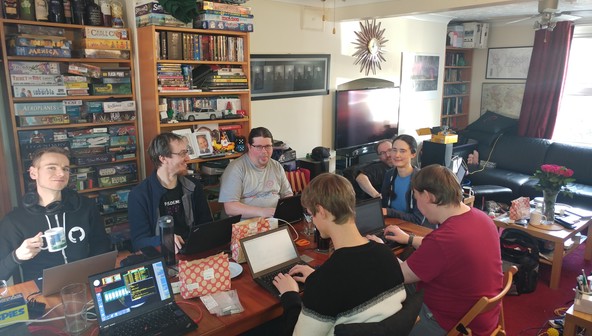 03:08 :: # :: /debian/bsp :: 0 comments
BSP Marathon - Helsinki, 11 - 12 Nov 2006

Travelling again, this time to Helsinki. Droidy generously hosted us for the weekend in her apartment, and over the 2 days something like a dozen people showed up.
It was nice to fly into Helsinki airport on Friday night to find that they were having some proper winter weather already, with snow on the ground. Much better than the miserable cold rain and drizzle we're having in Cambridge so far this year... *grin*. I also got to see why so many good rally drivers come from Finland - the taxi driver calmly drove me from the airport into the city on frozen roads, catching skids one-handed while he had a conversation on his mobile phone in the other.
We worked through a series of bugs throughout the 2 days, and very late on Saturday night Droidy and Jukka helped me with some testing of the Etch d-i RC1 CD and DVD images so we could release them.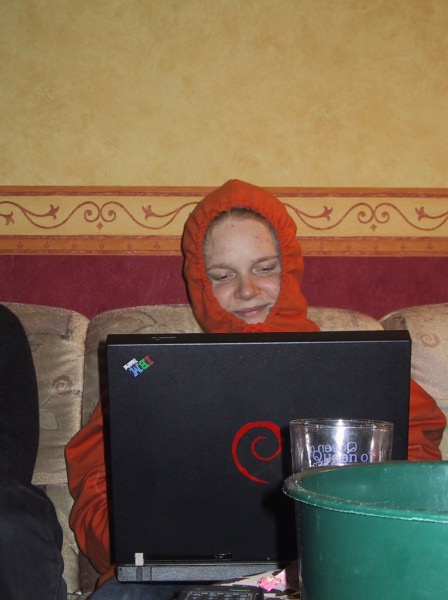 As most of the people at the BSP were interested users rather than DDs, I was aiming to help other people get up to speed on reproducing and fixing bugs rather than just diving in myself - in the longer run, it's more useful. Nonetheless, I got a fair number of bugs polished off (#396361, #395858, #395857, #382843, #397620, #397693) along with my usual bit of debian-cd work.
Of course, while I was in Finland there was no way I'd miss out on the sauna! On Saturday night we put the world to rights in the sauna and then over some beer. It was cool to meet up again with Lars and Jesus that night, and we discussed the details of Lars' tattoo. Lars also still has some cool ideas for Debian, which I'm sure he'll be publicising himself over the next few months. *grin*
22:56 :: # :: /debian/bsp :: 1 comment
BSP Marathon - Cambridge, 28 - 29 Oct 2006

After travelling around Europe visiting other people and helping on the Etch RC bug total, it was my turn to play host in Cambridge. Quite a few people turned up from around the country, and we got quite a lot of work done. Vince brought along one of his fast arm machines to help on the arm mono and java bugs. I found 3 packages that definitely looked ripe for removal (dart, felt and linpac) 1 that needed a small amount of NMU love (gnupod-tools) and another that needed a lot of TLC (gpart). All in all, another fun, productive weekend. i don't have any photos, but others may...
21:48 :: # :: /debian/bsp :: 0 comments
New BSP announced - Cambridge, 28 - 29 Oct 2006

After 3 successful weekends away doing Etch QA work in Utrecht, Zurich and Munich, I think it's only fair that I offer to host another BSP in Cambridge. Details are in the Debian wiki right now, and I'm about to post to d-d-a too.
01:47 :: # :: /debian/bsp :: 0 comments
BSP Marathon - Munich, 14 - 15 Oct 2006

The weekend of the 14th-15th October saw my third BSP in as many weekends, this time in Munich. Andreas Barth was in charge of the organisation, and the LiMux development team were kind enough to host us for the weekend at their offices in the centre of the city.
Andi, Zobel and I headed into the office early on Saturday morning, ready to start hitting RC bugs. Others joined us during the morning, and we got to a total of 10 people working on fixing bugs. Personally I looked through many of the bugs listed on Andreas' page. It was heartening to see that a very large number of the RC bugs were already well in hand, with patches available and in lots of cases uploads already made. I spent some time looking into #389287, #392398, #389375 and #262440. I also helped out several other developers with their own bug fixes, giving out accounts on my wide range of machines at home so that they could debug on different architectures.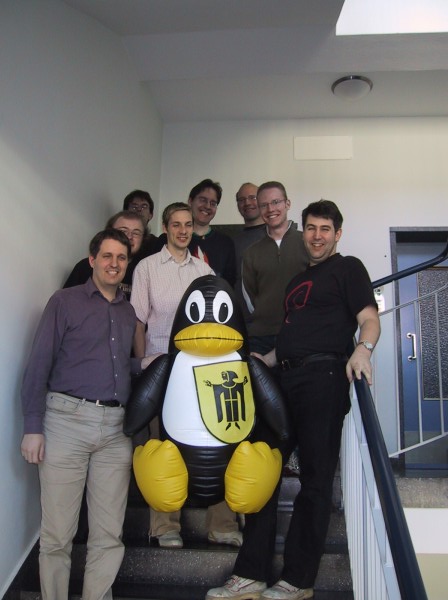 We worked late into the evening, ordering in pizza and then later cooking in the offices. I moved onto some more debian-cd hacking later on, making real progress and getting almost to the point of having my multi-arch CDs working. As always, there was a lot of discussion about the general issues in Debian, especially the 4 GRs that were due to finish that evening.
On Sunday morning, things started slightly later as we took breakfast at the office. There was more discussion of the GRs, and the results were generally well received by the group. We continued looking into the RC list; I investigated #389434, but struggled to make much progress.
At lunchtime, we quickly(!) headed into the city to see the famous Glockenspiel at the city hall, and went for a quick tour of the historic city centre so that us non-locals could see something of the city outside of the office. We returned and picked up on the bug-killing for a couple of hours. Then the LiMux guys showed us some of their work, and gave us a demo of the project. More on that later...
Unfortunately, I had to head back for my flight comparatively early this weekend so I couldn't stay around for very long after the demo. Despite the last-minute attempt by an S-Bahn ticket machine to delay my trip to the airport, I got back without incident and even landed early at Stansted.
The Germans I met this weekend were very serious about getting work done, and their efforts are much appreciated. With more people helping to reduce the RC bug counts, we should have no problem releasing Etch in December. Let's keep up the good work...! As always, my meagre attempts at photography are online now.
01:35 :: # :: /debian/bsp :: 1 comment
BSP Marathon - Zurich, 07 - 08 Oct 2006

Last weekend, I went to Zurich for the second leg of my own personal BSP marathon. Martin Krafft organised the BSP at the AI Lab in Zurich, arranging sponsorship and encouraging local DDs and users to turn up.
Martin and I started early on Saturday morning, opening up the lab shortly before 9am and making a start on the RC bug list. Over the course of the next few hours, more people turned up and started work too - local DDs and a couple of Debian users from ETH. We worked our way through a fair number of bugs that day; personally I closed #389318 (a grotty FTBFS bug caused by IMHO a design mistake upstream - parsing header files using a simple awk script to create an m4 script to then generate C source) and spent quite some time digging into some other bugs.
For our late dinner on Saturday, we headed to a local American-style bar/restaurant in Oerlikon called Cheyenne. Their speciality, it seems, is the "Big Mama", the largest burger I've ever seen! It comes on a huge serving plate, and is enough to feed up to 4 people...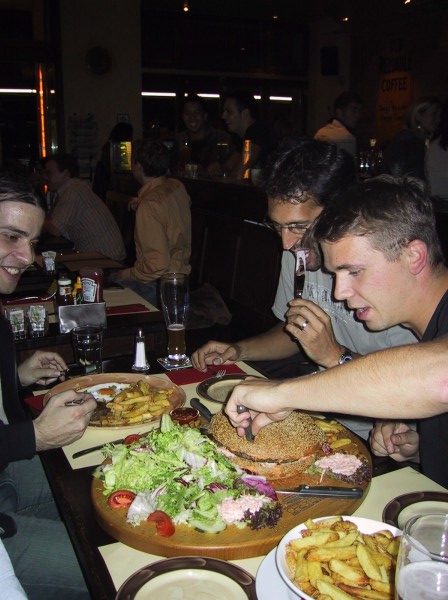 I took the chance over dinner to chat with the small group of locals, especially Axel Beckert who had some interesting stories about Fedora, Opera and other groups.
On Sunday, we started slightly later but probably had a more productive day in terms of the number of bugs closed. I fixed some silly FTBFS issues in ser: #384772 and #390008 were both caused by the build system assuming i386/amd64 compiler options. I adapted patches suggested by Julien Blache from his own work on openser (thanks!) and tested on my sparc and hppa systems at home. Job done...
For the rest of the day, I used the time to work on remaining bugs in my own packages. Both CVS and debian-cd needed new uploads to be ready for the Etch freeze. CVS had a bucket-load of new translations following Christian Perrier's call, and debian-cd had a large number of bugs that had already been fixed in svn for a long time. Between those 2 uploads (and some other old bugs in debian-cd that needed reviewing) that made another 17 bugs fixed, although none of them were RC. Once those uploads were done, I continued on with my debian-cd multi-arch development work.
On Sunday evening, we went into the middle of the old city centre in Zurich to a more traditional Swiss restaurant. Several of Martin's colleagues from the lab joined us, and we had some widely varying conversation, ranging from Debian (of course! *grin*) to gossip in the lab via lots of other topics. Due to my ridiculously early flight home on Monday morning we couldn't stay out too late nattering, but nonetheless all the people seemed to enjoy themselves.
The Swiss group were a fair bit quieter then the Dutch the previous weekend, but seemed just as committed to getting work done and getting Etch out on time. It was lovely to meet and spend time with them, and I've promised to go back and visit again soon. Until then, I've put my small selection of photos online.
01:02 :: # :: /debian/bsp :: 1 comment
BSP Marathon - Utrecht, 30 Sep - 01 Oct 2006

Last weekend, Jeroen van Wolffelaar and Thijs Kinkhorst organised a BSP at Utrecht University. I went along for a couple of reasons:
to help reduce the number of RC bugs in the run-up to the Etch release
to meet some of the Dutch developers and users, and to encourage them to work their best for Etch
I met up with Hanna Ollila at Schiphol Airport late on Friday evening, and we took the train down to Utrecht together. We found Jeroen and some others at the station and went straight on to a party in the middle of town for a few hours. Then after just a few hours' sleep we headed into the University to get breakfast and start squashing bugs. A group of about a dozen people turned up that day - mainly a mixture of Dutch DDs and other locals.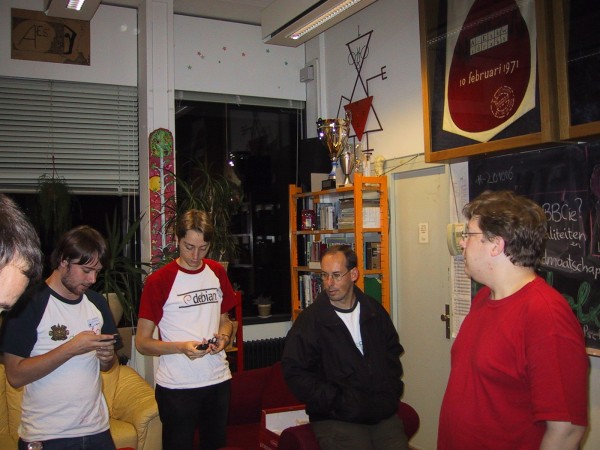 I took a look at a couple of bugs initially on Saturday: #387419 and #387498. Unfortunately, the first (kdepim FTBFS on alpha) was difficult to reproduce - the alpha machine I had available for testing was too short on memory and took a very long time to build kdepim, long enough that after 2 days I gave up. I couldn't reproduce the latter (system() hanging when running on mips) on any machine I had access to - it looks like more work is needed there... In parallel with those two RC bugs (found on Andreas' great summary page at http://bts.turmzimmer.net/details.php), I also had a very productive session working in parallel with Christian Perrier, fixing translation/i18n bugs in one of my own packages, CVS. Thanks Christian, you're a pleasure to work with!
On Saturday evening, the gang of us headed into the centre of Utrecht for a nice meal, some beer and some spirited conversation at a Greek restaurant. I took the opportunity to talk with Frans Pop about some of the remaining work needed for d-i and debian-cd.
On Sunday, the work continued. I was still waiting on feedback on #387498 and my build of #387419, so I decided to make the most of the uninterrupted time to get some debian-cd development work done. I'm still hoping to get multi-arch CDs working before we release etch, so this was a great help. In fact, I got so engrossed in this that I managed to work straight through dinner...!
In terms of bugs, I must admit that I didn't do much in terms of reducing absolute numbers. This weekend, there were a lot of bugs in categories that don't really work well for Bug Squashing: licensing/legal bugs (which really need discussion with the maintainer), newly-opened bugs (IMHO it's a little rude to NMU a package when a bug has only just been opened - give the maintainer at least a couple of days to respond!) and deep bugs where intimate knowledge of the package is needed. I expect there will be more to work on next weekend in Zurich, if nothing else some of those "new" bugs will have aged.
Early on Monday morning I caught the bus from near Jeroen's apartment to start the journey home. Thanks to the nice reliable public transport, I got all the way to Schiphol well in time. Then my flight back to Stansted was delayed... :-(
It was great to meet up with a bunch of enthusiastic people. Some I'd met before (Frans, Jeroen, Hanna). Some I met for the first time (Thijs, Bas, Moritz and others). But all of them were working hard, wanting to help get Etch out on time. Let's keep up the good work!
I have a small number of photos online.
23:12 :: # :: /debian/bsp :: 0 comments