Film Review / Comment: An Inconvenient Truth

Just seen this at the Arts Cinema in central Cambridge this evening. It's a well-presented documentary showing Al Gore's lecture tour where he talked about the problem of global warming. He delivers a compelling message, with a fair amount of data to back up his conclusions. I only had a couple of issues with the movie:
A sequence about his presidential election defeat in 2000; in my opinion all this added was distraction from his points.
Some of the scary-looking graphs he showed didn't have any clear, useful labels on the Y axis; my own experience from studying science and engineering makes me always suspicious of such things. I hope that this was just a deficiency in the film, and I'll check out the accompanying book to confirm this.
In my opinion, the conclusions from the movie are quite clear:
Global warming is a problem.
We need to do something about it, probably a mixture of trying to reduce the causes and coping with the consequences.
There's a moron in the White House; this is not news to many of us...
23:22 :: # :: /misc :: 0 comments
Tenerife conference (continued)

I already started describing my time at JSLULL, the Free Software conference at La Laguna in Tenerife. It's been a few days since, and I'm now back at home and ready to summarise the rest. I should apologise up front that my memory of people's names is awful... :-(
The slides from the talk are on my website now, in case anybody is interested, and my photos are up too.
The original plan for Tuesday afternoon was to run a small Bug Squashing Party in one of the computer labs at ULL, but unfortunately this week the main internet link from ULL to Madrid had failed. It's a little difficult to work on bugs when you can't even get to the list, so we changed tack. Instead, I led a small workshop for interested people, demonstrating how to create Debian packages. About 8 people got involved, taking turns to drive the keyboard, ask and answer questions. People were keen to learn; there is a very active group in the University running the labs and other machines, and they were hoping to create packages of some of their own software to make maintenance and installation easier. I'm glad to help!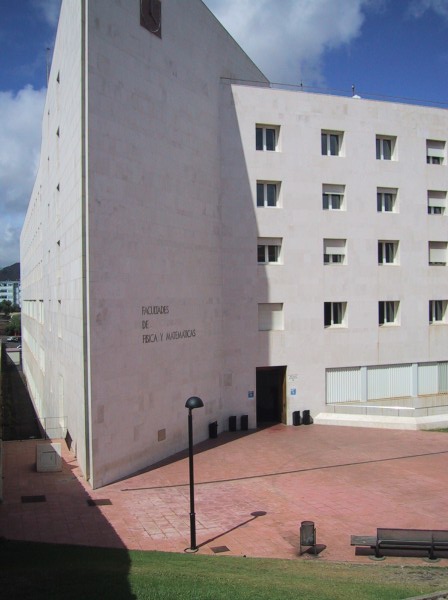 We went out to one of the beaches near Santa Cruz that evening, then headed back into the city later on for drinks and dinner. We had a very animated conversation about the use of Free Software in schools and local government, with the Spanish people and Knut Yrvin from Skolelinux trading interesting stories about their experiences.
On Wednesday morning, a group of us rented a car and headed inland to visit El Teide, the huge volcano that dominates the Tenerife skyline. It's the first time I've ever looked down on clouds from the passenger seat of a car! We headed almost to the top, and visited the desolate plain just down from the last summit. It looked almost like a lunar landscape, untouched by water...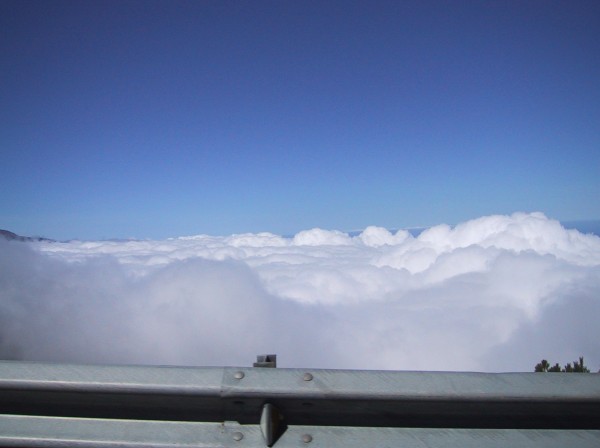 Later on that day, I headed back to the hotel in Santa Cruz and then on to the airport to catch my return flight to England. Carlos (again) had given up his time to chauffeur me around, and we chatting about all sorts of things while he drove south. Unfortunately, the flight was delayed by several hours because of mechanical problems. I would have been happy enough to have simply waited at the airport, but Carlos was having none of it. :-) He insisted we should go and have dinner together; we went for drinks at a beach bar, then up to his home village for a lovely meal. Eventually I caught my plane at 2:30am, and got back to England just in time to catch the rush hour traffic on the M25.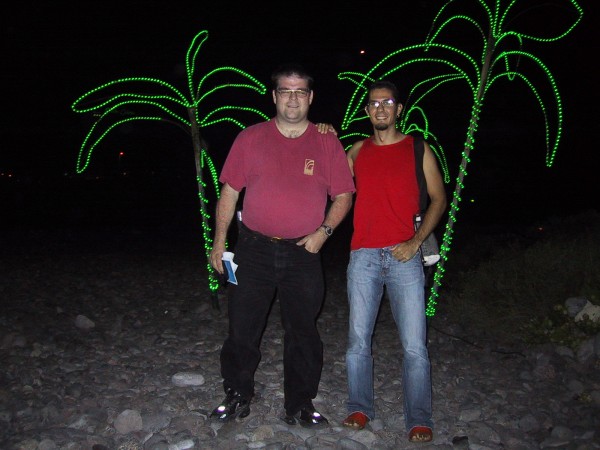 I spent a lovely couple of days in Tenerife, spending time and making friends with the very enthusiastic local Free Software hackers. I'd love to go back again soon and see more of the place. Thanks to all the of the people involved, you were very welcoming!
00:44 :: # :: /debian/ULL :: 0 comments