Mini-Debconf in Cambridge, November 14-17 2013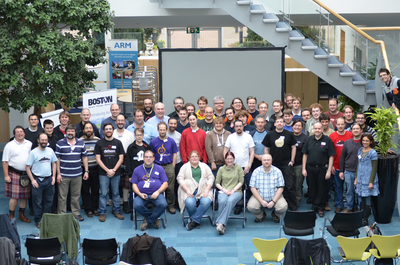 We successfuly ran our mini-conf last weekend. We welcomed roughly 60 people to the ARM offices in Cambridge over the 4 days.
We started off with two days of sprint time, set aside for focussed hacking. We had a selection of ARM development boards on hand that people were playing with, plus a number of other people working on various other projects. The sprint sessions also saw some lively discussions on a couple of topics: the status of the ARM ports in Debian and automated system testing.
Saturday and Sunday saw us move over to the more traditional style of conference session. Two full days of talks covered a wide range of topics: system testing to git tools, Debian ftp team work to bootstrapping the new arm64 port, improving ways of tracking and crediting Debian contributions to dealing with the new world of UEFI. Several volunteers from the DebConf video team were on hand too, so our talks were streamed live and recorded too - look out for them online soon!
The mini-conf went well and feedback from attendees was universally positive, so we're already planning to run another similar event next year and maybe even apply to host a full DebConf in Cambridge soon too. :-)
Many more details about the conference are in the debconf wiki at https://wiki.debconf.org/wiki/Miniconf-UK/2013 . Thanks to the sponsors who helped to make it all happen: ARM, Boston, Open@Citrix/Xen and Codethink/Baserock.
2013-11-25 UPDATE: Videos are now online at http://meetings-archive.debian.net/pub/debian-meetings/2013/mini-debconf-cambridge/ in various formats.
10:42 :: # :: /debian/mini-debconf :: 0 comments